College welcomes a student of courage
Share - WeChat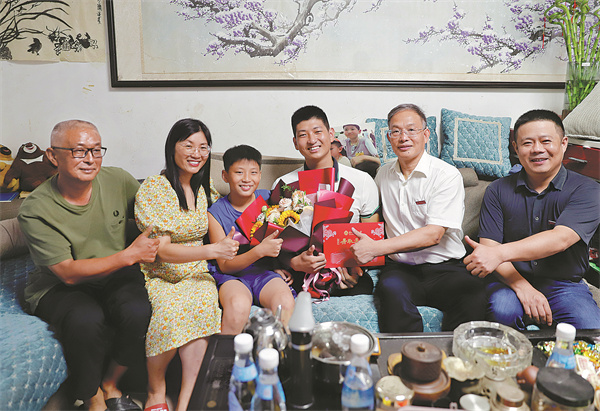 For most graduating students, the college-admission season, usually in July and August, is a nervous time that is often described as a life-changing moment.
An anxious 18-year-old Peng Lanxi got his admission letter from Hunan University of Science and Technology on July 26, bringing his dream closer-making prosthetic limbs more advanced and accessible to people like him. His mother Wang Chunmei couldn't hold back her tears because she knew how her son had overcome the odds.
Peng lost his legs in a car accident in 2005, when he was a toddler. Having learned to walk using just his hands, he enjoys life as much as the teenagers around him. On his wheelchair, he plays basketball and badminton. Once a week, he goes for a 40-minute swim, and his best time for 100 meters is 1 minute and 15 seconds.
When going upstairs or downstairs, Peng's arms move like feet with speed and agility.
"I believe that obstacles are there to be conquered. Someone says that life is like a mirror, and we get the best results when we smile at it," Peng, who is from Changsha, Hunan province, says.
His story has gone viral on social media platform Sina Weibo, which has been viewed more than 19 million times and he won admiration from its users for his courage, determination and hard work. A user named Shuangpi comments that Peng lost his legs, but he doesn't let that get in his way.
The official account of Hunan University of Science and Technology on the platform has even commented under the hashtag, welcoming Peng to the university.
Lu Ming, director of the university's School of Information and Electrical Engineering, says that the school will help Peng to pursue his dream-to be a prosthetics engineer, a career that will change lives.
Peng is not alone, as authorities have bolstered the presence of disabled people on mainstream campuses in recent years. According to the China Disabled Persons' Federation, 14,559 students facing physical challenges entered college last year.
From 2016 to 2020, about 57,500 special needs students enrolled at universities, a more than 50 percent increase compared with the 2011-15 period, according to Xie Hongde, deputy director of the federation's education and employment division.
Most Popular